Organizing the kitchen is essential to preparing delicious food. Spices and essentials should have a fixed place, and you must choose where to place them carefully. In addition, an organized kitchen makes it easier to work and optimizes the time and effort spent preparing recipes.
Smart storage helps food stay fresher longer. It also allows you to enjoy delicious aromas without worrying about them fading quickly.
How Do You Store Spices?
Spices are an ingredient that everyone has in their kitchen. We can prepare spice mixes that make our food delicious and experience an explosion of flavors with them. Therefore, it is good to take care of them and keep them organized in the kitchen. There are several ways to store spices in the kitchen:
Spice Boxes
Spice boxes have a unique appearance, and you can choose boxes with an oriental feel reminiscent of the places where small pleasures originate. They come in various colors, have beautiful details, and will be an attractive addition to your kitchen. They look like small cabinets and can easily be placed on a counter or anywhere in the kitchen. It has to be visible!
Container With Stand
If you want to give your kitchen a special touch, choose tableware with a stand. They are compact, take up little space, and allow you to keep all your spices in one place. It improves functionality and helps spices retain their flavor and aroma longer. Also, no matter what you are making, you will always have everything at hand.
Containers On Shelves
It is possible to create a special place dedicated to spices. A small wall shelf in a rustic style can completely change the atmosphere of a kitchen. It fits well with styles such as romantic, Scandinavian, and vintage. You can decorate it with checkered curtains and small floral accents for a special touch. A few jars of spices on the shelves will create your own deliciously scented corner.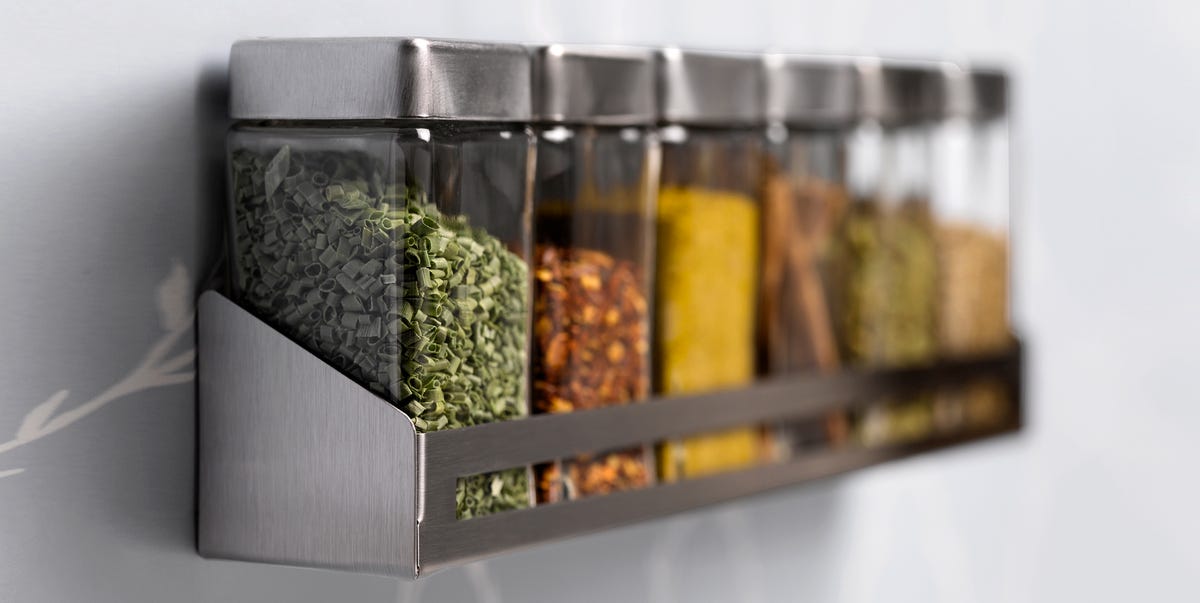 Rotating Spice Rack Counter
Focus your collection on 12 frequently used dried herbs and spices. Then, pack them in the included sealable glass jars, and you can display them on this tall merry-go-round.
Organize Other Kitchen Utensils
Long-term storage of essential ingredients is recommended in terms of time savings and budgeting to ensure that ingredients are always available in the kitchen for your favorite dishes. But how can you keep food fresh longer?
Flour
Flour can be stored in airtight containers. It should not be placed near foods that emit strong odors. With proper storage, flour can be used without problems for about a year. It can be stored in the refrigerator for 2 years.
Bread
Bread is best stored in a box or paper bag to prevent moisture absorption. Store at room temperature, not in the refrigerator. Many attractively designed bread boxes will look great in your kitchen.
Pasta
Pasta can be stored for 2 years after drying. Depending on the type of pasta used, choose the best metal box with a unique shape. Ideally, this box should be airtight. If not, it can be stored in its original packaging and further placed in a metal box.
Rice and Sugar
These two materials have no limit to their shelf life. They are easy to store and require little effort. Prepare an airtight container or natural fiber bag for your rice. This way, you can protect the rice from moisture and light and keep the flavor intact.
As you can see, you can choose from many storage options and learn how to efficiently store spices and food items. Also, be sure to choose dishes that look good and fit your elegant kitchen.