Cleaning kitchen countertops may seem simple, but nothing could be more wrong. To prolong the life of your kitchen countertop, an expensive purchase, it is essential to use the right cleaning products and consider the type of countertop as well.
In this article, we will guide you through kitchen countertop cleaning!
How Do You Clean a Kitchen Countertop?
Cleaning countertops is part of kitchen cleaning, and because they are used daily, it is important to do it every day.
However, work carefully and do not immediately reach for abrasives. Worktops should be wiped with a sponge or a warm cloth moistened with mild detergent.
Cleaning of Plastic Countertops
Cleaning and maintaining plastic worktops is not that difficult. With proper care, plastic worktops can be enjoyed for a long time. Regular cleaning with the right products will help them last longer. In addition, plastic worktops will quickly disappear from dull stains.
Instructions:
Remove stains with a cloth
Clean with soapy water and all-purpose cleaner
Wipe with a clean, damp cloth
Then dry the plastic worktop
For stubborn stains that are difficult to remove, consider using soft pads. However, if the cotton swab is too fine, it may damage the tabletop. Therefore, care should also be taken when cleaning plastic table tops!
White Stains on Plastic Countertop
White stains on plastic worktops are usually lime stains. Lime stains can be effectively removed with a small amount of cleaning vinegar. When you use vinegar, the stain usually disappears quickly!
Stainless Steel Countertops
Stainless steel scratches easily, so cleaning stainless steel worktops requires extreme care.
Instructions
First, remove food residue and other stains with a soft cloth.
Then prepare a soap solution with water and an all-purpose cleaner and use a sponge (not a pad).
Rinse Aid (for dishwashers) can give it an extra shine.
For more stubborn stains, baking soda can also be used. Act on the area to be cleaned. Then wipe with a damp cloth.
Always brush in the same direction. Try not to scrub, as scrubbing increases the likelihood of scratching.
Never use sponges or abrasives to clean stainless steel worktops. Additionally, the use of biting or aggressive substances is not recommended. They can affect stainless steel worktops, causing stains and matted spots that are difficult or impossible to remove later.
Cleaning Granite Countertops
Granite worktops should also be thoroughly cleaned, however, some cleaning products can dull granite worktops.
The best way to clean granite worktops is to use "soft" products. Granite is a 100% natural material, so an all-purpose cleaner cannot be used.
For daily cleaning: use a mild detergent.
Stubborn stains can be removed by applying undiluted CIF solution to a soft sponge.
Then rinse with lukewarm water.
Finally, dry well with a clean cloth
Be careful. Granite worktops are easily damaged. Therefore, please avoid using this product.
Ceramic Worktops
Ceramic worktops are easy to clean because of their homogeneous surface layer. In addition, ceramic is not only water-resistant but also particularly scratch-resistant. Therefore, damage is unlikely to occur. In addition, ceramic worktops are highly heat resistant.
Stains can be cleaned and removed with a mild detergent. Then wipe with a damp cloth and dry thoroughly.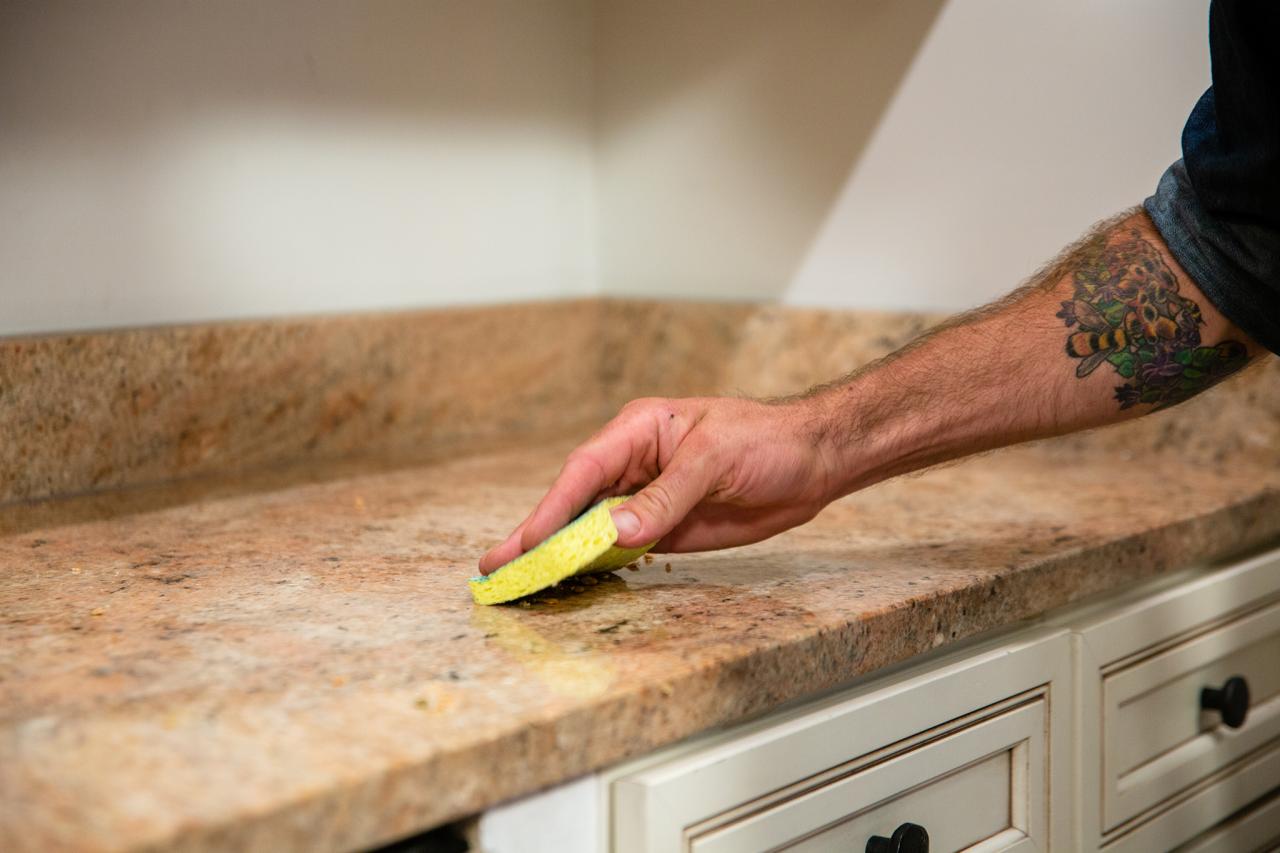 Quartz Countertop
Quartzite worktops are also widely available in kitchens. They can be easily washed with soap but strong cleaning agents are not recommended. To remove coarse stains, use a soft brush and avoid those with hard bristles.
Other Tips:
Using Vinegar
It is not always possible to properly clean worktops with vinegar. Vinegar has corrosive effects and may cause damage. Therefore, simply using vinegar is not recommended.
Pans on Countertops
Not all worktops can withstand the heat from frying pans and other items. Placing hot pans on worktops is not acceptable (except for ceramic worktops). To avoid problems, it is best to use coasters.
Let us know if these few tips have helped you in the comments below!