We all know that olive oil is a great way to put the most delicious dishes on your table, but it's another thing to know that olive oil is an excellent cleaning agent. Here are a few things you can clean using olive oil!
1) Clean Cast Iron Pans
When cast iron pans are encrusted with food, we can only think about washing it using dish soap. However, this will damage the frying pan's protective coating. When washing a cast iron pan, choose a scrub made of coarse salt and olive oil. The effect is similar to a scrub used in the shower. The salt will remove any food residue from the pan and the oil will provide a natural nonstick coating.
2) Polished Silver
Do you need to polish your silverware? Silver can be polished with olive oil. Put a small amount of oil on a cloth and rub it gently on the silverware. Polishing silver with olive oil not only gives it a beautiful shine, it also creates a protective film, which is always a good thing.
3) Clean Leather Chairs
Olive oil has an added benefit for leather furniture. Do you have a leather sofa with small tears or cracks, or is the leather dull? Olive oil is the solution. Once the cracks are repaired, the leather will be soft again and a beautiful shine will appear. Apply a few drops of oil to the leather and polish the sofa or chair with a cloth.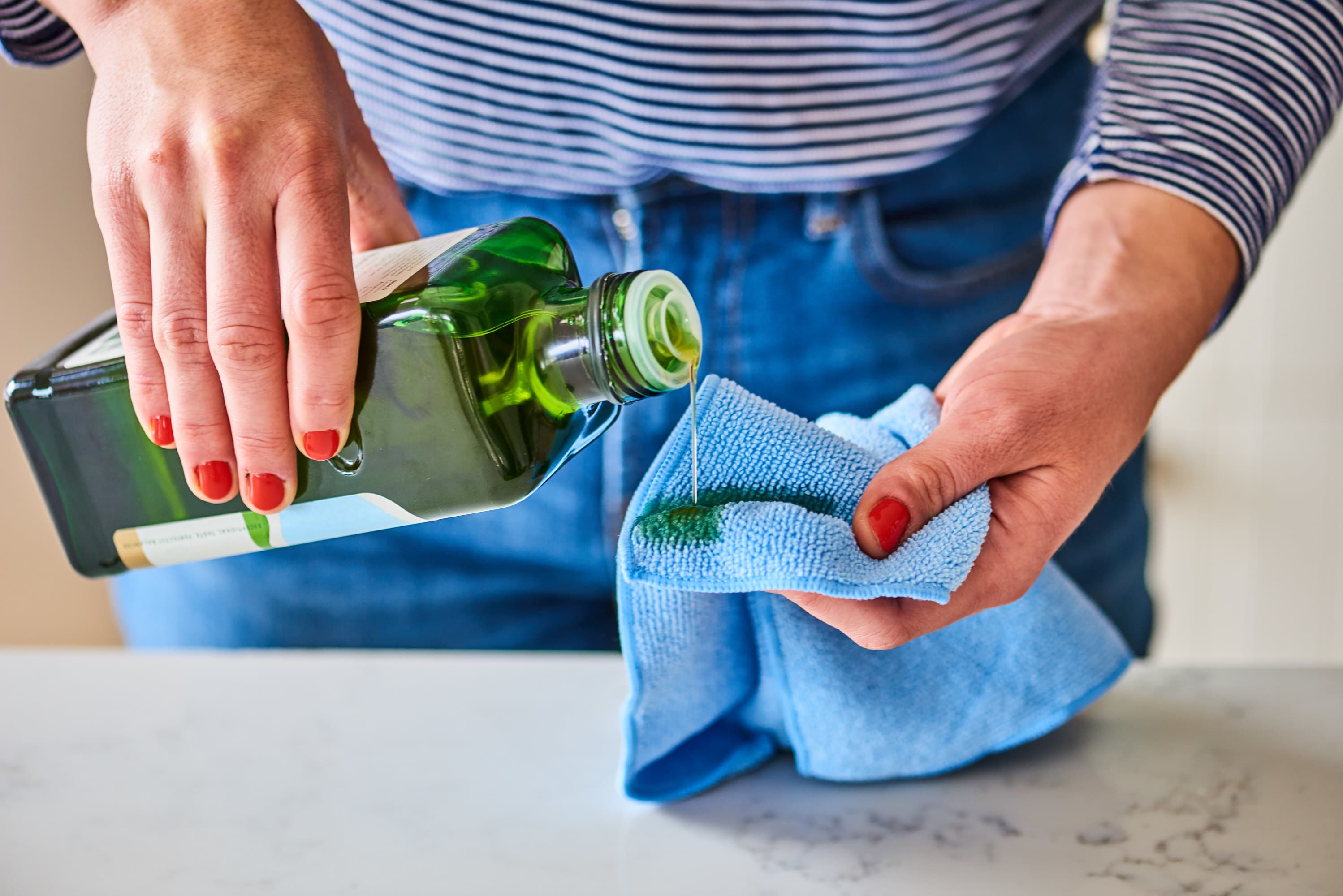 4) Clean Stainless Steel
Olive oil can perfectly clean stainless steel. First, try to remove stains with vinegar. Next, dip a piece of kitchen paper in olive oil and work the stainless steel, rubbing in a circular motion. The luster of the stainless steel will be restored. You can also use baby oil or coconut oil.
5) Polishing Leather Shoes with Olive Oil
It may seem a little strange, but olive oil works wonders when used to polish leather shoes. Put a few drops of olive oil on a cloth and wipe the cloth over the shoes. The shoes are now completely clean and shiny again. It also works great with leather bags and purses!
6) Wood
Wooden furniture is greatly improved by olive oil treatment. You will need only three things: 2 cups of olive oil, 1 cup of lemon juice or vinegar, and a soft cloth. Mix olive oil with lemon juice or vinegar and apply to a soft cloth. If you rub the cloth on wooden furniture such as cupboards and chairs, you will see a significant improvement! The acid will clean the furniture and the olive oil will moisten the surface layer.
7) Remove Adhesive Stickers
Use olive oil to remove stubborn stickers and other adhesive items on glass surfaces. Apply olive oil with a paper towel or soft cloth, wipe thoroughly, and rinse with warm soapy water. If this does not work, try adding a small amount of toothpaste to the olive oil.
8) Clean Garden Tools
Apply a small amount of olive oil to garden tools before digging in the soil to prevent dirt from accumulating. It also helps prevent rust and corrosion. This method is also effective if the olive oil has gone rancid.
9) Condition Cutting Boards and Knife Handles
Wooden cutting boards and knife handles can dry out and crack or split over time. Rub them regularly with olive oil to keep them moist.
10) Remove Chewing Gum From Surfaces
Chewing gum stuck to shoe soles, table tops, and hair can be removed by loosening it softly with olive oil. Dip the chewing gum in a small amount of oil, let it sit for 5-10 minutes, and then scrape it off with a butter knife.
Let us know if these few tips have helped you in the comments below!