People who say cleaning is fun and easy have severe brain damage. But, if you want, you can turn the whole boring cleaning process into a fun task by incorporating K-Pop songs into your cleaning routine.
Power Up – Red Velvet
The first time I listened to this song, I was already inclined to pass it off as another one of those happy songs with cheesy lyrics. But there's a different twist to this one. After giving this song a second chance, it really started to grow on me. Different concepts I seldom notice in K-Pop are the motivational songs; these songs tend to inspire the listener and, in turn, get their songs across. It turns out this song belongs to that category.
Red Velvet is really good at concepts and the jump from "Bad Boy" to this is impressive. In general, this song speaks about the intense work ethics imbibed in South Korea and if you've ever seen the MV you'd see the different things expressing very laggy and slow behavior, symbolizing the stress from the work load. Overall, the MV is very symbolic and did well in recognizing the strong pressure on workers. You can even hear it in the lyrics also, with them expressing a lot of tiredness and self-consciousness with regard to work and being on schedule.
Have a look at the English translation:
"Oh, I haven't done anything
But how is it already 3 o'clock?
I'm drinking an Iced Americano
But why am I still so hot?
The sun is teasing us
The asphalt is 50 degrees (Wow)
I want some energy, cold or hot
That's our genius power
Being spontaneous and instinctual
That's what we need, let's go
Let's level up to find the electricity tonight"
So, if you want a nice K-Pop song to listen to while cleaning, I strongly recommend "Power Up" as it's very catchy and fresh –the definition of a summer jam.
Dynamite – BTS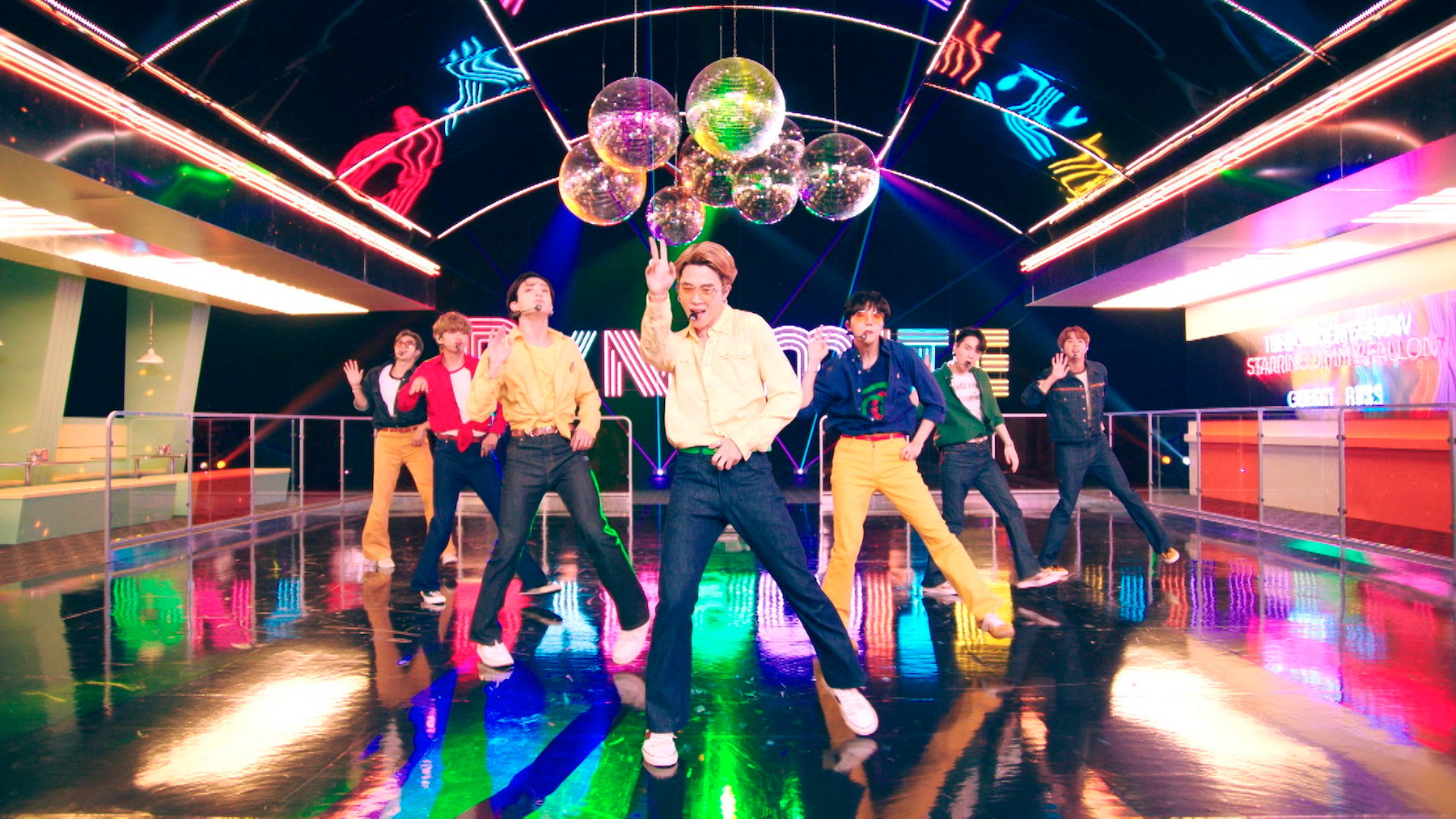 This isn't a typical Korean K-Pop song with sexy acting and staring into the screen with a serious look for seconds. "Dynamite" is a song that was written with the sole purpose to make people feel good and refreshed.
The song is catchy and I guess this is one of the main reasons why it appeals to the masses. It sounds positive, cheerful and totally like something a radio station would play on a loop. It is very funky, has very good vibes and sounds like it has been blessed by a ray of sunshine.
So, if you want to go through the boring session of cleaning without feeling bored, you ought to listen to this song and trust me, it will make you feel light and vibey.
Have a look at the lyrics:
"Cause I, I, I'm in the stars tonight
So watch me bring the fire and set the night alight
Shoes on, get up in the morn'
Cup of milk, let's rock and roll
King Kong, kick the drum
Rolling on like a Rolling Stone
Sing-song when I'm walkin' home
Jump up to the top, LeBron
Ding-dong, call me on my phone
Ice tea and a game of ping pong
This is gettin' heavy, can you hear the bass boom? I'm ready (Woo-hoo)
Life is sweet as honey, yeah, this beat cha-ching like money, huh
Disco overload, I'm into that, I'm good to go
I'm diamond, you know I glow up
Hey, so let's go
'Cause I, I, I'm in the stars tonight
So watch me bring the fire and set the night alight (Hey)
Shinin' through the city with a little funk and soul
So I'ma light it up like dynamite, woah-oh-oh"
Cheer Up –Twice
In the K-Pop industry, every girl group is different and has its own style. When it comes to the song "Cheer Up," I can't think of another group who would do it perfectly like Twice.
Twice is a very famous girl K-Pop group that is known for its consistently cute and mildly sexy concepts and this is one of the best songs.
"CHEER UP BABY
CHEER UP BABY
Cheer up
Women shouldn't easily hand over their hearts
That's how you will like me a even more
I will act like nothing's up
So that you won't know that I have feelings for you
Just get it together
And then baby CHEER UP"