As a matter of course, it is necessary to keep cleaning tools clean to clean hygienically. However, this remains a sensitive issue for many of us. Very often, cleaning supplies are not correctly stored after use. So today, we will share some tips on the proper storage of your cleaning supplies.
1) Storage Racks to Organize Your Daily Cleaning Products
Daily-use cleaning tools should be placed in bins for easier access. The bin should be big enough to hold mops, hand brooms, rags, detergents, and other daily-use cleaning products and should be easy to carry around while working.
2) Laundry Baskets
If you cannot find a small laundry basket or an appropriately sized laundry basket, a shopping basket can be used to carry laundry around the house.
Because cleaning moves from corner to corner and room to room, organizing the day's cleaning supplies in a small, movable basket is a good idea. If not, when the brushes are on the other side of the room when you need them for example, you will have to go back and fetch them, making you tired quickly.
Cleaning supplies for cleaning surfaces, such as sponges, cloths, and dusters, should be stored in inexpensive baskets.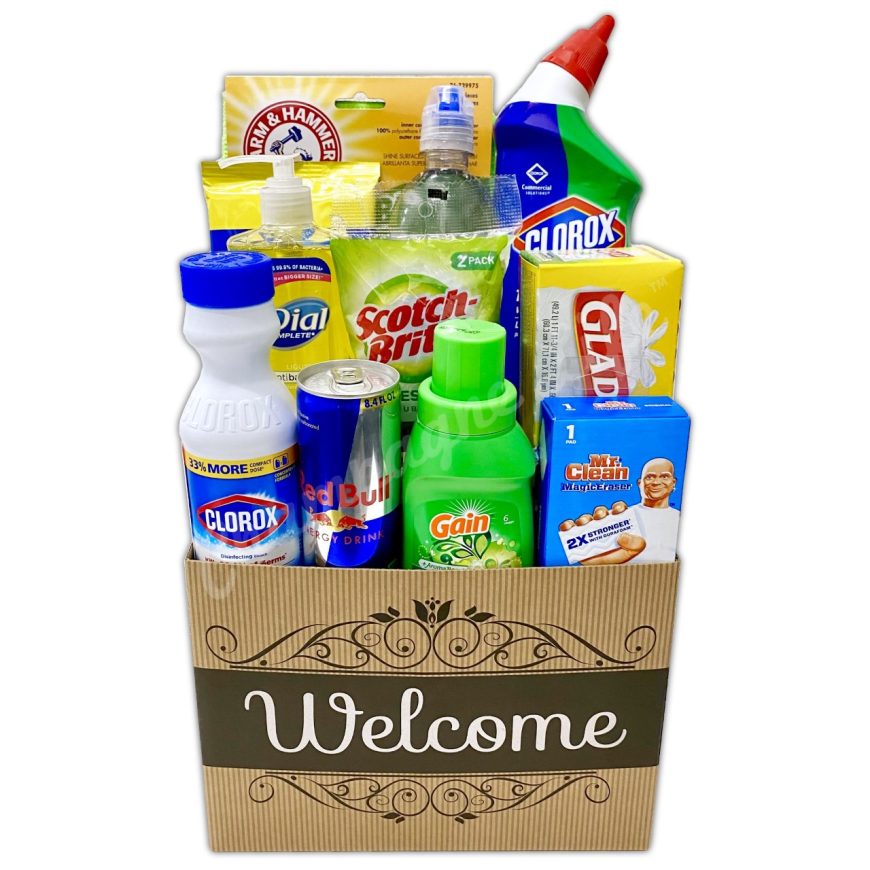 3) Use Bulletin Boards to Organize Cleaning Supplies
Some flats do not have dedicated storage space but don't worry; you can store your cleaning supplies by installing a bulletin board.
Choose an out-of-the-way spot in your home, set up a bulletin board, and attach hooks to it to hang brooms and dustpans that are in the way.
Hang cleaning supplies on the decorated bulletin board. If you don't have a cupboard dedicated to cleaning, this is a great idea.
4) Organize Cleaning Supplies on Wire Shelves
Why not make your cupboard like the inside of a refrigerator door with easy-to-install wire shelving?
The shelves need to support some weight, so be sure to provide sturdy shelves and mount them firmly on the inside of the closet door. You can line them up at varying heights to hold tall soap bottles.
Besides, installing wire shelves behind the door can free up cupboard space for other things.
5) Towel Rods for Organizing Spray Bottles
Soap, perfume, cleaning products, etc., are all now sold in spray bottles. Many bottles seem to be lying around the house. Pick out a new towel rod and hang up the spray bottles when that happens.
Arrange spray bottles according to color and size for more fun. Hang spray bottles on towel racks placed under the sink or in a cupboard.
6) Door-mounted Baskets
A much easier installation than shelving is baskets for lighter items. Sticky baskets of all colors are available in stores. To avoid buying one that is too long for the door, measure the space you wish to place it in. If you put in something too heavy, the stickers that hold the basket in place will come off.
Try to find a large basket to hold soap and sponges without bothering you when closing the door. Place the basket behind the cabinet door and store sponges and detergent.
7) Store Rubber Gloves With Grommets or Hooks
Attaching grommets to the gloves makes it easier to hang them on the cupboard door for cleaning. This will not only make them easier to find, but they will also dry faster.
8) Portable Bins
Prepare several small plastic bins to hold cleaners. Have a bin for all the cleaners for the bathroom, kitchen, toilet, etc. Find a lovely cabinet to keep these bins and when you need to clean the bathroom, take a container of bathroom cleaner and replace it when you are done.
Put similar cleaners in clean containers to be taken out and taken to other rooms when needed.
Let us know if these few tips have helped you in the comments below!