It is essential to clean your dishwasher and dryer regularly. Doing so will help prevent unpleasant odors from developing or worsening from your dishwasher. These tips will help you keep your dishes fresh and enjoy your dishwasher as long as possible.
Dishwasher Smells
If your dishwasher smells bad, you can solve the problem with some refreshing products. But first, let's get to the source of the odor. A foul odor may seem harmless, but it can signify a more significant problem.
Dish and Dishwasher Cleaning
Many impurities can adhere to the dishwasher. Dishes should always be cleaned or scraped off the worst stains before placing them in the dishwasher. Then clean the dishwasher regularly. This will ensure that dishes come out of the dishwasher fresh and clean. This will also prevent more serious problems with your dishwasher.
Run a Hot Program
Run the hot program regularly. This will rinse the dishwasher well and prevent grease buildup. Some dishwashers automatically clean after several washes, while others have special wash programs.
How Does Grease Build-up Occur?
Greasy food and detergent residue can build up in the dishwasher. As a result, the interior space, water pipes, and filters become covered in grease. Foul odors develop, and dishes and machines do not clean properly. Grease builds up, especially when short or low temperature programs are run frequently.
Clean The Filter
When the filter hasn't been cleaned, dirty water is pumped through the filter, leaving a residue of dirt. There are often coarse filters, fine filters, and sometimes microfilters. When the filter becomes clogged, water does not flow properly. After a while, an invisible oil film forms on the fine filter, causing unpleasant odors and stains on dishes.
Check The Filter
In addition to cleaning, it is also essential to check the filter after each wash. Unscrew the filter, take it out, wash it with tap water, and screw it back in. When removing the filter, ensure no debris has entered the filter housing.
Cleaning the Spray Arm
After a while, the holes in the spray arms can become clogged due to limescale or pumped water residue. Clogging will prevent the spray arms from distributing water pressure correctly. This can prevent proper washing of dishes or cause leaks.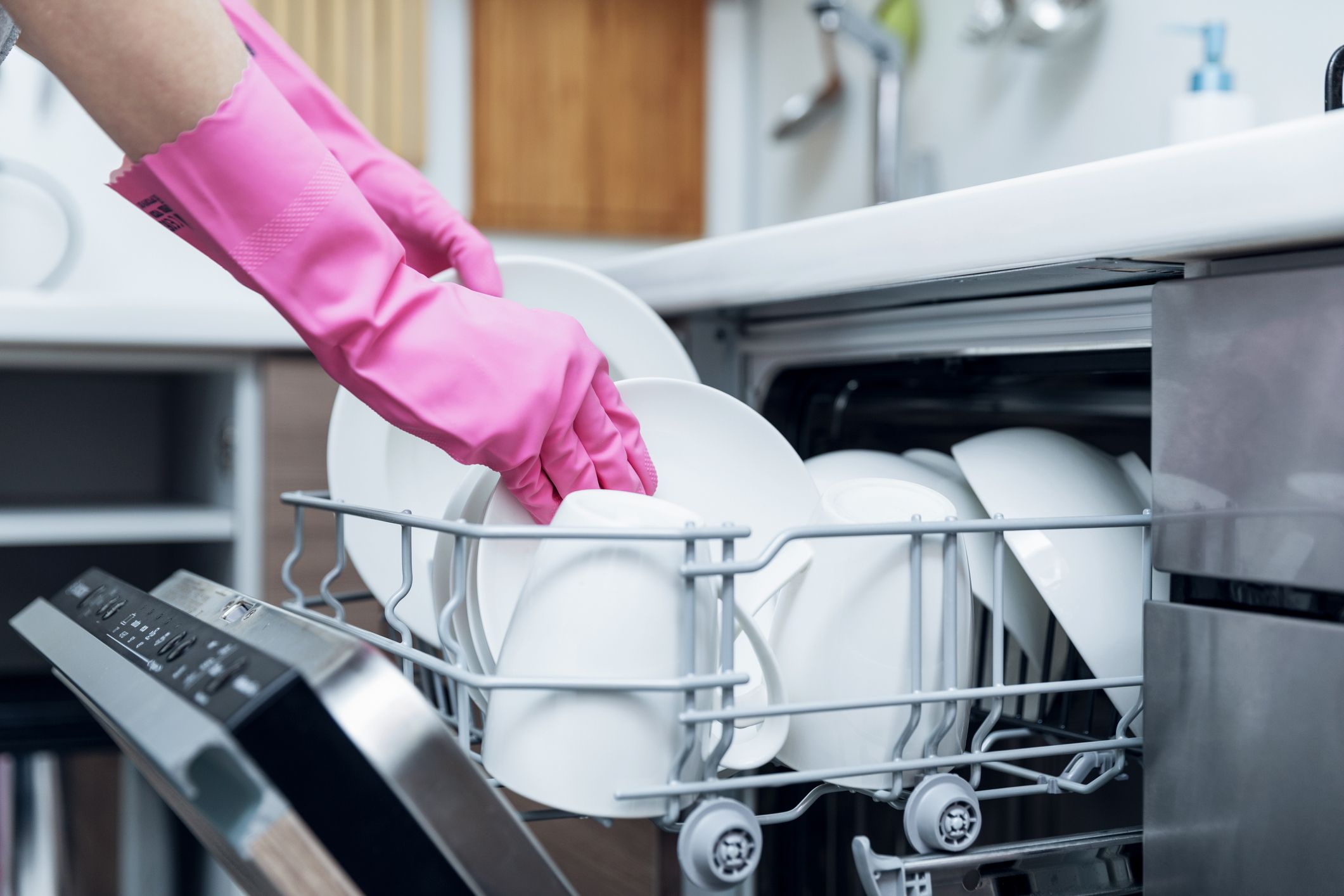 Clearing a Clogged Spray Arm
Most spray arms can be unscrewed. Remove them from the machine, wash them under tap water, and puncture them with a cocktail stick.
Dishwasher Door
Dirt tends to accumulate on the edges and door seals of dishwashers. This can begin to give off odors and damage the rubber, causing leaks. Therefore, clean the door seal regularly with a damp cloth
If the dishwasher has not been used for a long time, the interior may begin to smell. Leave the dishwasher door slightly open. Of course, do not leave dirty dishes in the dishwasher for long periods. This will also stink. If necessary, rinse the dishes in the pre-wash program.
Dishwasher Detergent
If your dishwasher is maintained correctly, a machine washer is not necessary. Set your dishwasher to the appropriate hardness level if you live in an area with hard water. Are you still concerned about calcification of your dishes and dishwasher? Detergents can help with descaling.
Degreasing
Detergents also help with degreasing. This is useful for oily parts that cannot be removed by hot water washing or if persistent foul odors plague. Spray an empty dishwasher with a machine cleaner according to the cleaner's instructions.
Cleaner/neutralizer
Do you still have a persistent dishwasher odor after addressing the above causes? If so, a freshener or deodorizer can help. These agents act on the unpleasant smell of the dishwasher and dryer.
Deodorants usually give off a very strong lemon-like scent. It can mask the unpleasant odor. Neutralizers will only neutralize odors. However, the agent often gives off an odor. Also, placing half a lemon in the cutlery basket will give off a fresh aroma.
Let us know if these few tips have helped you in the comments below!